Output current up to 1000 A in pulse mode
Programmable output voltage up to 30 V
Pulse length starting at 300 µs
Extremely low noise with linear output stage
Programmable current pulse
Integrated current measurement unit
Integrated voltage measurement unit
Integrated LAN, GPIB and USB interface
Front touch display available
Optional: integrated isolated voltage measurement unit
The potential-free high-current SMUs of the AXC family are characterized by their very fast, low-noise analogue power amplifiers. This allows fully regulated current pulses to be realized under one millisecond at peak currents up to 1,000 A.
Functions such as the start of a pulse can be activated by hardware triggers and thus guarantee very short response times. The throughput in the test procedure is significantly increased and at the same time less energy is introduced into the component to be tested. This leads to less heating in the component itself, which is crucial, for example, for the test of bare dies.
The extremely compact design of the devices in 19" format with only 6 U saves space in the test system.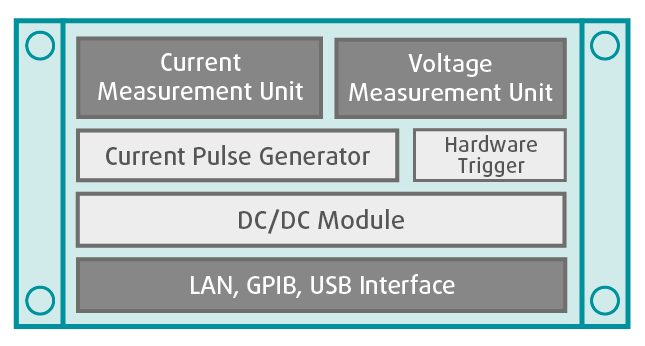 | Ordering Information | Comment |
| --- | --- |
| AXC7583 | 1000 A / 30 V maximum |
| Option VMU-ISOL | Isolated VMU on request |
| Option NON-ISOL | Non-isolated device |
| Option HIGH-ISOL | Isolated device by gas discharge tube |
| Option FE | Front touch display |
| Option RMK | 19" rack mounting kit |